"The Western PA District equips and resources people for leadership, service, and witness for Christ and His Church." (Ephesians 4:11-13,16)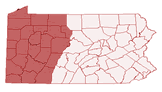 The Western PA District Church of the Brethren manages and administers the work of the district as authorized by District Conference. The District is comprised of 65 congregations and 2 fellowships. The District is an important connection to the denominational network as well as a provider of some of the following resources:

* Ministerial placement, credentialing and calling of ministers;
* Congregational resources which includes curriculum, Bible studies, stewardship education materials and Video/DVD materials;
* Leadership development and Christian education training;
* Mission and outreach opportunities.